Yes, I know...I've gone on already about how much I love the upcoming time of year. I don't care. I'm going to do it again. And you're going to deal with it, because you love me and want me to be happy.


I walked into work this morning, expecting the same ol', same ol when it comes to Fridays...long day, but okee dokee because, well, it's Friday. But today was going to be different...oh so different.
I was suddenly all smiles. Overnight, literally, my store had become a Christmas wonderland! We're talking permanent smileage here folks. I couldn't get over it. I actually took my camera out and grabbed a few shots of a few of the many wonderful things available for purchase to make our home all Christmasy.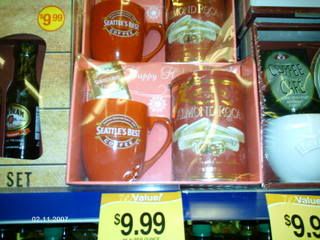 Heaven in a box.
I'm fairly certain I could live on coffee and Almond Rocha. I might not be able to fit through any doors, or sit still for any period of time, but I'd be livin', baby!
Disregard the glare...it was on a top shelf. These are just the cutest oversized Christmas bulbs ever...they are for the yard.
Finally...bulbs for Big Boss Man...he believes that ALL Christmas lights should be those old colored bulbs...the huge ones. Well, here ya go hon!
And these...giant ornaments...I don't know where I'd put them, but I'd find a spot to watch them sparkle.
The camera doesn't near do these justice. They were simply sparkling.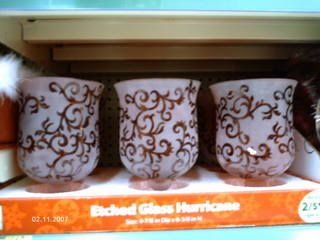 Gorgeous for year-round use, but lovely in a Christmasy way too.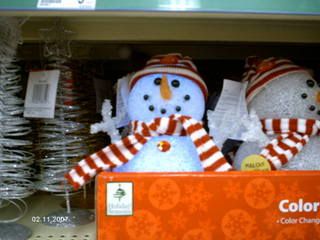 Hard to tell, but they glow...they actually change color. Nothing like a color-changing snowman. Cheesy? Maybe. But I like 'em anyway.
Ahhh...more cheese.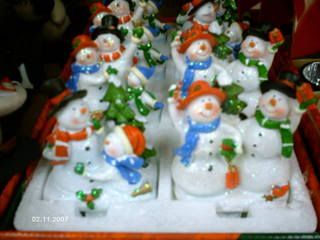 Lots of happy snowmen, snowwomen, and snowchildren.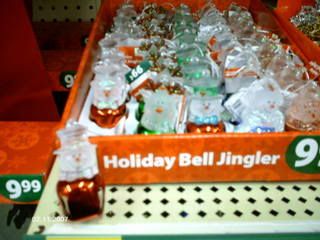 Jingling snowmen, snowwomen, and snowchildren.
As you can see, I'm totally psyched about Christmas. I had people staring at me like I was a true freak (and not just the one I play on TV). I'm the first to admit: I don't do decorating. I don't really have a style (well, unless you consider "clutter" a style). But Christmas decorations are just neat. How can you not smile when walking into a room filled with deep greens, bright reds, sparkling silvers and crisp whites? It speaks of winter and Christmas. It exudes comfort and family. It almost pukes warmth and happiness. And I'm all for it!