Are those two words supposed to be used together? Happy Monday? Are we sure?

Well yes, I figure any day I wake up is a good day...a happy day.

Plus, during my morning perusing of Facebook, email, and my daily/semi-daily blogs, I came across this deal from Child Training Bible.

I will be honest with you: paying the $9 for the CTB is a stretch in our budget. But I've wanted one for awhile now, not only to have something to reference for my children, but also for myself! I'm not a new child of God, but I'm still a learning child of God (aren't we all?). There are some many times I've needed to dive into the Word for some problem I'm experiencing...a feeling I'm having trouble with...and I just don't know where exactly to turn.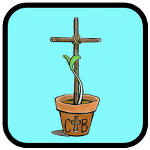 Now I'll be able to reference His instruction for us any time I need it. And boy, do I need it!
So...this weekend was filled with laundry, football
GO WILDCATS!
, and gorgeous fall weather. That's actually about it (isn't that enough??). Thus starts another week. Our older son is having just a few problems at school and is home for today and tomorrow, so I'm home with him today. Have I told you recently how
*badly*
I want to homeschool??
Blessings to you this Monday morning, and this week as a whole.
Today I'm linking up with The Better Mom: